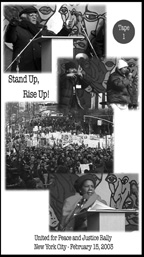 Stand Up Rise Up: February 15th, 2003 NYC United For Peace and Justice Rally

On February 15th over 500,000 people attended a rally in New York City against the Bush Administration's drive toward war against Iraq. Organized by United For Peace and Justice this event was part of a worldwide effort, as tens of millions of people on every continent stood together to say no to war. Because the NYC Police Department made it difficult to get to the protest, most people could not see or hear the incredible range of speakers and performers. Produced by The Empowerment Project this video is a video record of the stage speakers and performers, including notables Archbishop Desmond Tutu, Harry Belafonte, Susan Sarandon, Angela Davis, Holly Near, Pete Seeger, and Richie Havens. Also featured are spokespersons Leslie Cagan, Julian Bond, Medea Benjamin, Reverend Graylan Hagler, and Miles Solay. Now you can see the entire program from that historic day and retain it as an archive. Funds from the sale of the video will go to continue empowerment projects, peace and justice work and a donation will be made to United for Peace and Justice for every order placed. Buy this film.



Activist Films & Videos | Gatewood Documentary | Media Facility | Speaking Appearances | Resources | Current Activism | Contact Us | Home
Copyright © 2000-2003 by the Empowerment Project. All rights reserved.