Democratized Electricity
The inspiring story of how a group of determinted neighbors created their own community-based solar electric generating system.
Seizing Power
How perpetual warfare is turning the U.S. into an authoritarian security state. A new documentary in process.
Poetic Portraits of a Revolution
Spoken word poets recount their experiences of the Arab Spring in a compelling multi-media performance.
Soldiers Speak Out
American veterans who have been to war, and are now opposing it.
The Panama Deception
Re-release now available: updated and expanded.

ABOUT US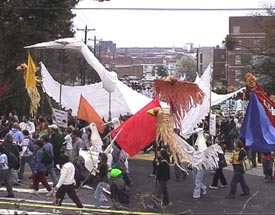 The Empowerment Project produces and distributes its own documentary films and videos, and provides facilities, training and other support for independent producers, artists, activists and organizations working in video and other electronic media. Its purpose is to work towards democratizing access to the media, and to provide the resources necessary to put the power of media in the hands of individuals and organizations working to further important social, political and artistic purposes. EP coordinates and supports progressive organizing efforts, and operates a media center with access to video and computer facilities in Chapel Hill, North Carolina. Founder and Oscar-winning documentarian, Barbara Trent, speaks at universities and other institutions to help people become more critical consumers of the media and to shed new light on the social and political issues facing us today. EP also operates the Old Oak Homestead as a center for learning and practicing sustainable living methods.
Want to help out with our latest documentary? Learn more...
Interested in doing an internship with the Empowerment Project? Find out more...
Donations are urgently needed
Consider making a
Tax-Deductible Donation

Films and Videos | Media Facility | Speaking Appearances | Resources | Current Activistm |Contact Us |Old Oak Homestead