Panama Deception | Coverup | Destination Nicaragua | Raw Footage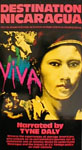 A REVIEW
Destination Nicaragua: The Documentary
By Joan Friedberg
I believe it's somewhere in South America," speculates one woman in a street interview in the opening scenes of the recently completed video documentary, "Destination Nicaragua."
The woman typifies many people who have only a vague idea of where Nicaragua is, let alone any understanding of its political controversies or the lifestyle of its people.
This documentary is aimed at those folks. Produced by two ex-Topangans, Barbara Trent and David Kasper, the documentary follows groups of delegates from Witness for Peace and other groups as they travel to Nicaragua to see for themselves what's going on down there.
These are not rabble-rousers, peaceniks, or radicals, but groups of patriotic, church- going, courageous, but scared middle-America citizens who are going to Nicaragua with their shovels, their cameras, and plenty of good intentions. "I've never been outa Colorado," admits one of the delegates, Reverend Jim Warn.
Through the narrative of "Cagney and Lacey" television star Tyne Daly, we are given a brief overview of the problems facing this small country, and we get a few glimpses, from stock news footage, of President Reagan telling it like it isn't.
Throughout most of the documentary, and especially in the first half, there seems to be no particular point of view. It merely raises questions. For example, it points out the dissent of the Catholic church and claims of press censorship under the Sandinista government. And it shows a Sandinista official bluntly admitting the purchase of weapons from the Soviets.
We follow the delegates on a tour of two cooperative farms, appropriated from land confiscated from a few former wealthy Somocistas, and we can see how they are working productively under the Sandinistas. We are also told new literacy and health care are making great strides under the new regime.
When the delegates arrive in Jalapa, they meet a mother who describes how she found her young son's mutilated body after one contra attack on their village. After this heart-wrenching scene, one wonders how anyone could want to support the contras, but the film makes no comment.
This objective approach is both its strength and its weakness. These filmmakers bent over backwards to make an objective documentary that could be widely shown. At times it seems agonizingly objective. But taking a strong view in favor of the Sandinistas would surely have relegated the whole effort to radical oblivion.
Aside from the horror stories about the contras, what about the Sandinistas? Communist governments are categorically depicted as "evil empires," to quote one reliable source, and yet here we are witness to a communist country whose people, finally feeling empowered, are industrious, ambitious in a cooperative rather than an individual sense, patriotic, and free to a large extent. Saddened by their horrible past, they look to the future with hope.
In the last scenes, back at home once again, we get to witness some redneck goonies cavorting around a pro-contra rally revealing their profound ignorance, a scene which redeemed the whole film for me.
And we see our heroes, the American travelers from all over the country, who are visibly changed by their experiences.
Regardless of where we're coming from politically, we need to look at the realities of the Nicaraguan people's lives and how our foreign policy affects them.
This documentary gives us that chance.
"Destination Nicaragua," 58 minutes.
Produced by Barbara Trent and David Kasper. Narration by Tyne Daly. Music by: Jorge Strunz, Arlo Guthrie, Phil Ochs, and Charlie Haden.
Directors Guild Premiere March 25
The LA. benefit premiere with host John Stockwell and a score of special celebrity guests will screen Tuesday March 25 at 8 pm at the Directors Guild in Hollywood. For advance reservations contact the Empowerment Project at 213-390-9858. 13107 Venice Blvd., LA, CA. 90066.
Messenger, March 13,1986
To order this film click here.
Activist Films & Videos | Gatewood Documentary | Media Facility | Speaking Appearances | Resources | Current Activism | Contact Us
Copyright © 2000-2003 by the Empowerment Project. All rights reserved.